Invisalign Clear Aligners in Seminary Hill, Alexandria, VA
Is your crooked smile making you feel embarrassed? Do you hate the idea that you might have a crooked smile for your wedding next year or that you might have senior photos with large gaps in your smile? Our Alexandria, VA, dentist Dr. Murshed Rahman understands the pitfalls of having a crooked, gapping, or crowded smile. He also believes that everyone should have a smile they feel confident in and that it's never too late to achieve this. Thanks to Invisalign, now our teens, young adults, and older adult patients can get the smiles they want.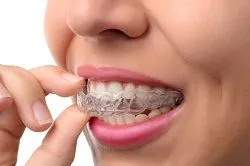 As you might be able to guess from the name alone, Invisalign provides our patients with a nearly invisible approach to straightening teeth. This means that you can simply place a comfortable, custom-fitted aligner that fits over your teeth the same way a mouth guard or nightguard might and wear them to social events and work functions without others staring at your smile. This is a completely metal-free way to correct your teeth.
Along with being completely clear, these aligners can also be removed before eating and before caring for your smile, so you don't have to change your oral care routine or worry about spending more time than usual trying to clean trapped food between your braces. You never have to worry about this with Invisalign. Plus, there are no foods that are off-limits with this clear treatment. Again, you just remove your aligners and eat normally.
Invisalign also offers our adult patients a faster way to get a straighter smile. If you have more minor "bad bites", crookedness, crowding, or gaps between teeth, then you may see results within just a few months. It is possible to get results in as little as six months for those with very minor issues.
The average length of treatment for our adult patients tends to be one year, and our teen patients may need to wear their aligners a few months longer, but the good news is that these aligners are transparent and barely visible, so you won't have to feel self-conscious about your treatment.
If You Are Interested In Getting Straighter Teeth With Invisalign From Vanguard Dental Solutions, Call Our Alexandria, VA Office In Seminary Hill At (703) 751-5052 Today!